Join global changemakers redefining the future of food for a full day
of high impact networking, intelligent insights and discovery.
CORNELL TECH UNIVERSITY, NYC | SPRING, 2024
An Event For People Shaping The Future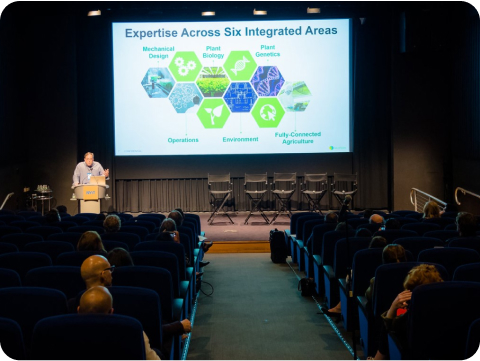 Gain Insights From Visionary Leaders
Join hundreds of the brightest minds redefining our food system. Gain insights on successfully tackling the challenges facing our food system from farm to fork
Innovation Stage: Discover The Future
There are different innovative companies tackling challenges facing our food system. Discover exceptional innovators shaping the future of food on the FoodNiche Summit innovation stage. To participate, visit here.
Discover Innovative Companies
Expand Your Network...
Accelerate Business Growth.
High Impact Networking
Expand your network of influential changemakers redefining the future of the food industry. Meet prospective collaborators, investors or partners.
Insightful Learning Opportunities
Join the brightest minds in food for intelligent insights on innovating successfully in the current food ecosystem. Learn factors driving change and factors driving consumer food purchasing decisions.
Discover Innovative Food Technology Companies.
Stay ahead of the innovation trend in food, discover collaborators, or partners from the global food ecosystem.
Showcase Your Brand
Leverage opportunities at this summit to enhance your company's visibility, leverage your thought-leadership and promote business growth.
What Past Attendees Are Saying:
"This Summit was thoughtfully curated and well attended – an overall great event for learning and networking."
"This was a great event which covered ambitious ground from food investors to high technology. I enjoyed meeting the vendor sponsors and enjoyed the rich panel discussion. Thank you!"
"Really appreciated the structure and organization of the event! One of the best I have seen. It made it very easy for me to connect with so many prospects sharing our mission with them."
Frequently asked questios
This summit will take place in-person in New York City. The address is 2 W Loop, NYC 10044.
Is there accommodation close to the venue?
Is the venue close to the NYC subway?
Yes, the venue is close to a train station with easy and short train rides to NYC  Penn Station or Grand Central. For more information and updates on train services or delay, visit here.
When does registration close?
Registration closes when the event is at full capacity which can happen a month or two before the event date.